24 July 2000 -- Simon Bolivar's Birthday Porlamar, Margarita, Venezuela (10.57N; 63.49W)

Clearly, life in a communal-type anchorage lulls us into communications complacency.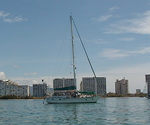 Our first week in Margarita was one long sequence of socialization, shopping, eating out, entertaining in, and shopping some more. Projects, of course, continued with Don and Adam spending a lot of time in Don-the-rigger's workshop breaking down the Aries windvane into pieces, cleaning up the corrosion and reassembling it into the sensitive moveable piece it's supposed to be. It is now remounted on the stern, about 16" higher than our first effort, the hub is on the wheel, and all that remains is finishing the route for the control lines, which involves a fiberglass tunnel through the cockpit coaming.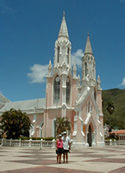 At the halfway point of the week, we took an all-day island tour in the company of Judy & Bryan of Ursa Minor. Our guide was Bernardo, a third generation Venezuelan of German descent, with a comfortable, air-conditioned mini-van...properly equipped with a cooler in the back. Bernardo gave us an overview of the history, which as ever is mostly comprised of a struggle between colonizers and natives, in this case the Spanish and the local Indian population to begin with, and subsequently the Spanish and their own rebellious colonists. Same story, different players. This led to the great campaign led by Simon BolÝvar to throw of the yoke of Spanish oppression and create one huge country called Gran Colombia that would have encompassed present-day Venezuela, Colombia and Ecuador. His generals however then warred with him and the Gran Colombia then broke up.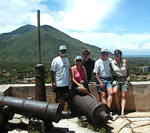 Into this historical overview we plugged the usual round of chapels, fortresses, and museums coupled with drives and overlooks that covered the whole northern "half" of the island. Margarita is really two mountainous islands linked by a long, broad sand isthmus. The whole is almost forty miles long, and the strange effect we'd noticed on arrival -- unblemished mountains behind Miami-beach like lowlands - turns out to be due to a law making all land above 80 meters national park. It is so close to the mainland, you can see the mountains in some detail on a clear day.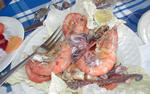 We had an amazing "tourist" luncheon on beach of Juangreigo (named for a Greek pirate who shipwrecked there) with a seafood plateful of grilled shrimp, mussels, baby octopus, and squid! It made for a pretty busy plate, and all those arms, legs, heads and shells gave the American palates a pause. But good adventurers that we are, we shoved aside preconceptions and cleaned our plates.



Next step of the meal was to purchase several cultured pearl necklaces made from local oysters. (more on that later!) and listen to a narration of island history by two children about seven years old in tandem! As it was in Spanish, Bernardo had to translate every few words, and we got the impression that the performance had been done before! Still, with a bit of the history already in mind, I was surprised to find I was able to follow a substantial part of the tale!




On Friday we tore ourselves away from all this good life, and sailed west with Ursa Minor to the small island of Cubagua. Cubagua was the site of the first European settlement in America, Nueva Cadiz! What stopped Columbus in his tracks was the island's rich pearl beds (ah, those pearl necklaces!) In typical fashion, the colonizers exploited the Indian labor and the pearl beds, exhausting both in fairly short order (in one year the Spanish exported 820 pounds of pearls.) Then in one of those cataclysms with distinctly moral overtones, Mother Nature wiped out Nueva Cadiz with an earthquke and tidal wave on Christmas Day 1541.


Tucked behind the northernmost point, we found an almost deserted landscape but for a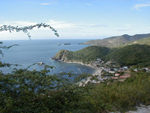 line of fishermen's shacks. Burnt umber cliffs rose to a flat-looking tableland inland. We were put off of the idea of investigating the ruins of Neuva Cadiz by reports of thievery from unattended boats, but we did indulge in the snorkel of a sunken car ferry and adjacent reef. The viz was poor and the water very cold, BUT it felt like climbing back in the saddle again. It was the first real snorkeling Don and I have done since Sept 1 1999, almost eleven months!! Had the viz been better it would have been a very interesting dive!

The deserted nature of this anchorage very much appealed to us, so we stayed two days. Then, since Judy and Brian have to work their way back eastward to Trinidad, we started back toward Margarita with a rousing windward sail to Isla Coche. This was our first windward sail in the new TII, and with a reef in the main, the staysail and the genoa we were thrilled with the morning's performance.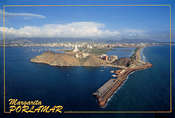 The cruising guide we are using was published in '97. In those three years the Punta Playa anchorage we dropped the hook in has gone from a deserted strip of sand with net fishermen and throngs of seabirds to a riotous holiday resort destination. There was not just a hotel with all the attendant beach chairs, jet-ski's, windsurfers, and well-oiled, bikini-clad bodies, but there were at least four huge day-trip party boats...one with a waterslide from it's top deck. What a din! After the party boats left, we five ventured ashore to walk the beach and check out the possibility of dining ashore. The resort turned out to be fancy and unappealing, an unusual combo. But we did glean in a mix of halting Spanish and halting English, a recommendation for a restaurant in San Pedro, the village on the next point. We went and enjoyed a delightful dinner, more mixed seafood (but no arms and legs this time!) with real hospitable service -- at El Bohio de Do˝a Carmen.

This morning we motored back early before the wind and current could build, and by 10am, we'd dropped the hook in Porlamar, in almost the same spot we'd left. Honey, we're home!

BTW (By the way)- Problems with the "twocaptains" email address (which arose when changing forwarding instructions upon departure from Trinidad) have been sorted out, and that address, which we pick up from cyber cafes, is back in business.

BTW #2 -- An email from a former charter guest alerting us to the fact that I got a mention in the August issue of SAIL magazine. The writer Amy Ullrich (who did the terrific feature on Whisper in '96) compared notes with the subjects of the article - Randy and Shelley of Three Moons to discover that they shared the same dive instructor...me!

31 July 2000 Puerto La Cruz, Venezuela (10.12N; 64.39W)
We left Margarita Saturday, overnighted again at Coche, and sailed Sunday to mainland Venezuela. We got the Aries working before we left, in time in fact for a test sail with Don-the-rigger and the Gallivanters (who now covet one), and it brought us most of the way! A mechanical autopilot saves a lot of amps over the electric one! Last night we anchored in El Oculto, a cove with no other boats and no human habitation in sight! If we'd swum to the beach it would have been our first footsteps on a foreign continent. Instead we snorkeled. Billions of Christmas Tree worms and a particularly healthy brain coral garden. We saved the South American moment for today Puerto La Cruz, and then forgot to think anything of it upon our arrival here. Puerto La Cruz is another biggish city with naked mountains behind it. However there is a big oil terminal here and some real industry besides internal tourism. The island cluster just outside the city are the grayest fractured moonscapes I've ever seen near a sea! Our marina - Bahia Redonda - is just at entrance to the huge El Morro marine complex, is mix of canals, condos, expensive homes, hotels, condos and boatyards. We haven't toured the rest of the complex yet, but Bahia Redonda, at least, is again an overstatement of architecture with an understatement of actual use! It seems there is money to build in Venezuela, but little to operate and maintain! We hear it has to do with the fluctuations in the political situation. However, several boats we knew in Trinidad, stood by to help us in and make us feel welcome. It's a very heartening phenomenon! Tomorrow we leave at 0500 on our Angel Falls adventure.