Volume 94
The Virgin Islands
April-May 2003
By all rights, an Update about the Virgin Islands should appear back in the Caribbean section of this website. We could place it right up at the front, since it was from there that the Two Captains set sail on this cruise four years ago. Four years and many thousands of miles later, that tiny cluster of islands seems a long way away and a long time ago. Our one-month trip back in April-May of 2003, like a punctuation point in our Mexican sojourn, was a chance to jump back to our starting point
It came about like this: A year ago, Don's daughter Tiffany announced her engagement to Derek Eberhart, and at the same time she gave fair warning to all invitees that the wedding would be a weeklong event at the small Sandcastle resort in White Bay, Jost Van Dyke, British Virgin Islands (www.sandcastle-bvi.com & www.jostvandyke.com ). Tiffany figured that a year's notice would allow all concerned sufficient time to plan vacation time and save the bucks necessary to make the trip. For the Two Captains the Virgin Islands wedding necessitated a change in our cruising plans. May would have been right about the time we should have been in the remote Tuamotu atolls of the South Pacific. Going earlier or later would have exposed us to hurricane seasons in one hemisphere or the other, and either way, if we went, we'd have the pressure of a schedule, the problem of storing the boat at the other end, and a big airline ticket. Without much difficulty, we decided on leaving Tackless II safely in Mazatlán with a second summer in the Sea of Cortez waiting for us upon our return. Not going to the wedding was never an option
We kid Tiffany that she had been planning this event long before she had a fiancé in sight! Tiffany's introduction to the Virgins happened in May 1995 when she flew down for her 21st birthday to visit her Dad for three weeks. Don had sailed Tackless II down from Clearwater, Florida arriving five days before Christmas 1993 (the very day, by the way, that the Two Captains first met!) For Tiffany's visit, Don and I collaborated on a weeklong tandem cruise -- two boats and three people – designed to introduce Tiffany to scuba diving and islands. Quite clearly the place took hold of her. As soon as she got home, Tiffany took her tax refund check and booked a one-way ticket back. Unfortunately, she arrived the day before destructive Hurricane Marilyn. Where many people would have bailed out when "paradise" got turned upside-down on them, Tiffany stuck it out and was rewarded with three rich years of work, friendships, and fun…not to mention the occasional cruise of the island group with the Two Captains.
Ironically, White Bay, Jost Van Dyke was one of the few locales in the Virgins that was not a regular stop for the 2Cs in our charter itineraries. Although it has the most picture-postcard, white-sand beach in the region, as an overnight anchorage it is shallow and rather exposed. However, being an easy hour's run in a powerboat from St. Thomas and happening to have Sandcastle's classic laid-back beach bar – The Soggy Dollar Bar – made White Bay the quintessential day-trip destination for Tiffany and her St. Thomian friends. Tiffany not only felt strongly that this was the place she wanted to her wedding to take place, but she wanted the people she cared most about back in the States to have the chance to discover the magical impact these islands have had on our lives.
I certainly can understand it. The importance of place to sense of self has been a major theme in my life, and there has probably been no place that has had more impact on my life than the Virgin Islands. I'll never forget my first view of the BVI from the DC10 landing at Beef Island airport in May 1983 when I came for a bareboat sailing trip with my sister, brother-in-law and nephew. That week quite obviously changed my life. My second visit was aboard the liveaboard dive boat mv Tropic Bird in January 1984 and that cemented the change. From then on I came twice a year as a dive tourist, until I finally came down in the fall of 1987 to do my scuba instructor's certification. I never really left again. In February 1988 I fell into a job as dive instructor on the liveaboard dive ship Aquanaut Explorer, with which company I stayed for two and a half years and during which time I got my captain's license. In 1990 I bought my own boat, the CSY cutter Whisper, and started my own dive/sail charter business out of St. Thomas. In 1996 after giving two years to land-based jobs, Don and Tackless II joined me full time.
It was not easy for Don and me to leave the Virgin Islands to go cruising. We had a successful business, we had friends, and we had the kind of intimate knowledge of the place that we will most likely never again match. We have seen many beautiful places in our travels since leaving the VI four years ago, but there has been none that had wholehearted supplanted the VI in our minds as a place we would want to call home. Still, we weren't sure how we would feel about either "home" or "the cruise" upon being suddenly dropped back at our starting point.
We realized pretty quickly that if we were going to travel all that way, we would have to take enough time to see old friends and revisit old haunts. I don't know how we would have managed it without the generosity of my former colleague and good friend, Judy Knape. In the three weeks prior to the wedding week, Judy and her husband Bryan Lane not only set aside time for us to sail with them on their charter yacht Ursa Minor (see www.sailursaminor.com), but they lent us both their car and their mountaintop apartment in St. Thomas!
It was the age-old homecoming story. On the whole, nothing had changed. In detail, everything seemed different. To start with, we arrived in a downpour. Given that April is usually the end of the dry season, rain was a surprise. It was raining so hard, in fact, they wouldn't let us deplane for a half hour since the St. Thomas airport has no covered jetways! Usually, at this time of year, the hillsides are quite arid looking, with cacti exposed by leafless trees! But this year the islands were bright green and positively lush! So, physically the islands were more beautiful than ever, and Charlotte Amalie must still rank as one of the world's prettiest ports.
But it didn't take long for us to read the mood of underlying distress. Obviously, the blow to worldwide tourism struck by the 9/11 acts of terrorism has had its impact here. The cruise ships that underwrite so much of St. Thomas' tourist economy are said to be coming partially full with a discounted clientele that doesn't spend money ashore. The territory's economy, always somewhat of a joke, is again on the brink of bankruptcy. Our charter yacht colleagues were easy to find because overall business has been slow. Over and over we heard the refrain, "You guys left at the right time!"
I used to make fun of bareboaters when I'd overhear them complaining about the costs of things in VI markets. "Be grateful it's available," I'd say, reminding people of the miracle of shipping. But, coming from Mexico, Don and I could not get over the cost of food, in the stores or in the restaurants. Similarly, we had a little trouble, after the personal warmth of the people in Mexico, readjusting to the aloof West Indian attitude. We also had a hell of a time understanding them! And while Don switched right back to driving on the left, we found we had forgotten the frustration quotient St. Thomas' heavy traffic.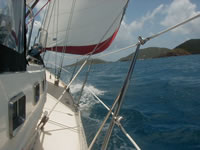 But it was great to see so many friends! It seemed like everywhere we turned were people we knew, some still on their boats, some with new houses, others with new careers, several with babies! Within two days of our arrival we even were offered a job! For a microsecond it was tempting, until we realized we couldn't possibly make enough to come out ahead! And in the small world department we even crossed paths with two good cruising friends: a couple we had been close to in Costa Rica, bound for Florida to finish up their cruise, and my first Spanish teacher in Trinidad, Kathy Parsons, the author of the indispensable Spanish for Cruisers. (www.spanishforcruisers.com)
Even when we lived there, St. Thomas was mostly a home base – a place to get mail and turn the boat around. "Home" from the heart's point of view was a mosaic made up of all our favorite anchorages throughout the island chain. Again, thanks to Judy and Bryan we were able to touch base with these deep connections. We went out sailing with them twice. The Monday after we arrived, we all went out for four days with friend and mutual charter guest Sandy Divan, who flew in from Colorado. Sandy and her husband Steve had chartered twice with Judy and me, twice with Don and me, and twice with Judy and Bryan. They had even driven all the way to Michigan for Judy and Bryan's wedding, and would most surely have come to ours if Steve hadn't passed away in September from a long illness. Sandy badly wanted to scatter some of Steve's ashes in the islands they had come to love, and it was a very special thing that we all, her family in the islands, were able to make a little ceremony of it together.
A week later, a working charter booking fell through, and Judy and Bryan were able to take us out for another week of sailing. And chartering on Ursa Minor is SAILING. Compared to our beloved old condo, Ursa Minor is a go fast sailing machine. Wow!!! We zipped among a half dozen of our special favorite anchorages – Muskmelon Bay and Monkey Point at Guana; Mountain Point, Virgin Gorda; Lee Bay, Camanoe; Marina Cay; George Dog; Anegada; Green Cay and Sandy Spit,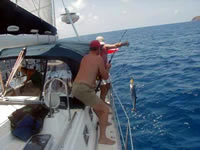 and in all the water was clear and warm and free of the stingy things that so often plague us in Mexico. On the other hand, the coral wasn't as striking as I remembered it and fish population seemed disappointingly sparse (especially to Don who now looks at fish as something to hunt!) We did, however, have some luck trolling.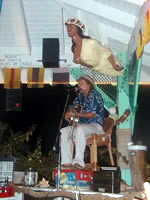 A favorite stop of Judy and Bryan's that we made each week and that should be a "can't miss" for anyone visiting the BVI was Michael Beans' "Happy 'Arrrr" show in the library at Marina Cay. Although the "Happy 'Arrr" is new since our chatering days, Beans has been around the Virgins since before our time. He was best known for puttering to gigs in his tiny yellow wooden sloop Esperanza, and Don used to work bar promotions with him back when he was a José Cuervo rep on St. Thomas. These days Beans does a couple of the most lively hours of seafaring music you'd ever want to see. He plays guitar, harmonica, squeeze box and his signature "stomp box" – many of them at the same time! Every table has raspers and maracas for audience participation, and the painkillers are at happy hour prices! I even managed to win a bottle of Pusser's Rum by displaying my rusty skills at blowing a conch shell!
As relaxing as it all sounds, it was by no means all play and no work. The Two Captains are, after all, the parents of the bride, and with the upcoming wedding happening in our turf, so to speak, the father of the bride shouldered a lot of last minute responsibility for loose ends. These loose ends ran the gamut from buying wine and champagne, tiki torches and citronella fuel, to collecting decorations shipped to St. Thomas by the bride, and getting all these things over to Jost. For this we also have to thank Judy and Bryan as well as our old friend on Jost, Godwin Callwood, who cheerfully stored all this stuff in his bedroom for us! Tiffany wanted to lay in a supply of beer, soda and bottled waters so that her guests wouldn't be at the mercy of beach bar prices the whole week. So Don called all around trying to coordinate the best price with the least schlep quotient, managing finally to work a decent deal with the new owners of Rudy's, a restaurant and grocery in Great Harbor. They even lent us a giant cooler for the week.
I had been charged with planning a "rehearsal" type event. Since all our meals were essentially included at the resort, a traditional dinner didn't seem to be what was called for. We stumbled into the perfect solution when we crossed paths with another set of charter colleagues, Gerry and Gerda of sv Sojourn, who had just acquired a new 54' foot Simonis catamaran. Braveheart (www.sailbraveheart.com) was so new it didn't have much business booked yet, so they graciously made it available complete with crew, enabling us to take the entire wedding party on a daysail the day before the wedding!
I was also able to pinch hit a solution when Tiffany's planned musician for the big day fell through. By incredible chance Gary Key, my long time favorite musician from the old days, was on island for a month of vacation with a few weekend gigs at the old hang-outs. Tiffany asked me to ask, and sure enough, Gary and his wife Cheryl sailed over for the day with some friends, and he played for the ceremony and reception. Since I would have like to have had Gary play at MY wedding, it was very special.
The wedding week was a huge success. Tiffany and Derek did a fantastic job choreographing not just the day, but the whole week. Almost all Tiffany's best friends from all stages of her life – Indianapolis, Clearwater, St. Thomas and LA – were there, plus her father and me, her Mom, her Mamaw (Cindy's Mom), her Uncle Glenn and his wife, and her cousin Tisha. We'll confess that we sailors had some concerns about spending a whole week cooped up on land in one place, but I'd have to admit we adapted just fine (I particularly adapted to our bungalow's king sized bed!)
Sandcastle, with its laid-lack bungalows, chef Oliver's gourmet dinners, and its absolutely perfect beach was utterly irresistable; White Bay's string of beach bars kept the young folk entertained, and Jost Van Dyke's steep roads kept the hikers challenged. Don and I particularly enjoyed getting to spend quality time with all these great young people.
The wedding itself took place at about 3:45 Wednesday, May 14 on the beach.
There was a maid of honor, three bridesmaids, two groomsmen and one Yorkshire terrier ring bearer. Derek was calm and handsome, and the bride, on her fathers arm, positively radiant. Thanks to the soft-spoken magistrate from Tortola and the lapping of the waves, most of the ceremony (except for a nice testimonial by Tiffer's friend Mettaya) was lost to those in attendance, but we all got the important part—"I do" x 2. Afterwards was a reception featuring champagne and Whisper punch (see Home page), delectable hors d'oeuvres, music by Gary Key, a little dancing, and a LOT of photographs.
Among the group from California was Tiffany's friend and coworker, Peter, who happens to be a professional photographer. Peter shot, we are told, some seventy rolls of film during the wedding and throughout the course of the week. We are also told the pix have come out great. Once the best shots are selected, Peter has put them up on a website so everyone can see. Since the bride was absolutely stunning (okay, Don, yes, THE MOST BEAUTIFUL BRIDE EVER!), we will add the link here as soon as it is ready!
Like most events planned so carefully, for so long, this one was over before we knew it. We had a lunar eclipse Thursday night which we all watched from chaise lounges on the beach. The whole gang went off for a day trip to the Baths on Friday and capped off the last night with dinner at Foxy's BBQ. Foxy's, of course, is where the 2Cs often wound up our charter weeks, so the food and dancing were very nostalgic for us. We even had managed to get a surprise birthday cake for the bride (that way outshone the wedding cake--the only disappointment of the wedding day—pretty, but blah!)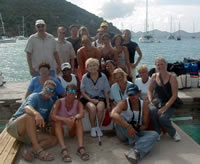 Then it was over; the wedding party decamped en masse on the Saturday morning ferry and disbursed to their different flights out to the States. Don and I flew out Sunday morning, overnighted in Tiffany and Derek LA apartment (the honeymooners were squirreled away in a hotel in St. Thomas!) where we picked up our new spinnaker, and Monday we flew back to Mazatlán.
It was a good visit. In fact, it could hardly have been better, because it wrapped us in the familiar, made us very welcome, exercised many memories, but made us realize we weren't missing being there. No, the Two Captains were ready to get back our boat and the Sea.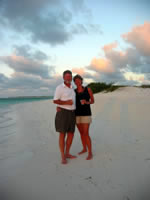 We want to thank all the many friends that made us feel that we had returned home, in particular: Judy Knape & Bryan Lane of Ursa Minor, David Kummerle of Glory of Christiansted, Godwin Callwood, Gary and Cheryl Key (all of whom came to the wedding!); Gerda & Jerry of Sojourn and Braveheart for the catamaran; Braveheart's crew Trevor and Joanne, for a great day; Joe of Caribbean ParaSailing for providing his Rafting Adventure boat to run the group over to Jost and later to the Baths; Mike & Jeannie Kuick, Pamela Wilson and Carter Freeman who let us act like the Flagship members we used to be (for charter yacht info check out www.flagshipvi.com ; transplanted former charter guests David & Danielle Comeaux for some legal advice over dinner at Sibs; Pieter and Pat Stoeken of sv Independence who are always happy to talk CSYs and cruising; Foxy, Tessa and Beverly who keep making Foxy's better and better, Debbie of Rudy's for her help, and all the staff – especially Allison, Tina, Claire, Jim, Oliver, Kendrick and the memorable Pinky—of White Bay Sandcastle who did their utmost to make our week there as great as it was.