HOME

WAYPOINTS

LOGBOOK

REFERENCE SHELF
CHARTERING

ENGINE ROOM

GALLEY

ADMIRAL'S ANGLE

LINKS

CONTACT

HOME
Captain's Log - Adventuring in Indonesia (2011)
Cafe Getaway - Our Shore-based Success Story
Captains' Log - Final Entries from Australia (2009)

Tackless II was sold in 2009 in Australia. Don and Gwen are back in the U.S., but still having fun!!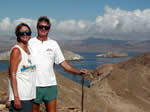 ome aboard! This site is the communications home port of Captains Gwen Hamlin and Don Wilson and the sailing yacht TacklessII . Like any good home port, this site is for family and friends to hang around and catch up on all our latest doings which may include voyages to interesting places, stories about people met, sagas in the engine room, or new discoveries in the galley!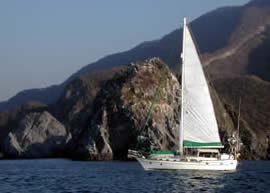 TacklessII is a CSY 44 walk-through, cutter-rigged sloop. From 1996 to 1998 she was operated as a dive-sail charter yacht in the Virgin Islands. The charter business was previously operated for six years on TacklessII's sister ship,
Whisper, a CSY 44 walk-over model. Both boats were extremely successful and are proud to boast over 250 alumni charter guests whom we expect will be among those following our exploits on the site!
In 1999, the two captains left taking a well-earned sabbatical…or is it "seabatical." We've been cruising full–time, and so far there is no end to the journey in sight! But the hosting instincts of charter die hard, so we have devised this way of taking you along with us.
So pop open a cold Amstel or a whip up a tall tropical cocktail (what home port would be complete without a good watering hole!), and let's catch up.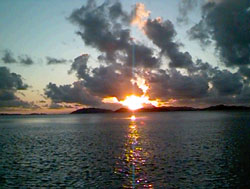 ****FAVORITE SUNDOWNER RECIPES****
Recipe for Sunset Sangrias
In a tall glass with ice:
2 ounces white wine (or white zinfandel)
2 ounces orange juice (Tropicana is best), mix.
1 ounce Whisper Punch*, do not stir
1 Tablespoon Grand Marnier, floated on top
*Secret formula Whisper punch mix, makes 1 gallon
1 can frozen Welches Guava Punch (subsitute Passionfruit)
1 can frozen Five Alive Citrus Punch (or any Citrus Punch)
2 cans frozen Bacardi Strawberry Daiquiri mix
1 small can frozen, Minute Maid Limeade
Water to make 1 gallon